Topical Cream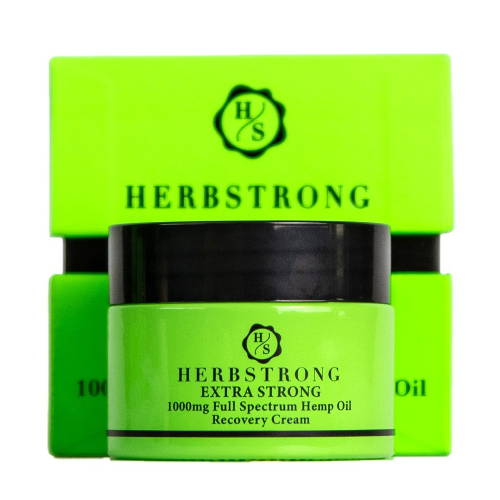 Extra Strong Hemp Recovery Cream
$65.00
Limited time offer: Only $58.50 with promo code: RELIEF
Our formula is designed with strength and effectiveness in mind. Our goal? To help you reach your full potential and get to feeling relief as quick as possible.
1000mg Hemp Exrtact

Approximately 20 mg of Hemp Extract per dime-sized amount. (50 servings per jar)

Non-scented/Gentle on sensitive skin


Additional Ingredients: Purified Water, Capric/Caprillic Triglycerides, Coconut Oil, Sunflower Seed Oil, Emulsifying Wax, Glyceryl Monostearate, Shea Butter, Stearic Acid, Cetyl Alcohol, Glyceryl Distearate, Carbomer Otiphen
Free Shipping on orders over $100

"If you don`t like pain you came to the right place. I have been using this herb strong cream on my knee twice a day for over a week now it really works I had to use a cane to walk now I`m walking a lot better with out the cane. Thank you for a great product.. PS who needs pain."
- Don
GOT ME READY FOR HIGHLAND GAMES!
"I just used the Recovery Cream for about a week prior to a highland games competition. My back had been an issue due to a bad dead lift, and with all the turning and bending required for our 9 events, I was in pretty bad shape. I used the cream twice a day and ended up placing 2nd at my competition. Things held up great and what was most surprising was how great I felt after the competition and the months following. Love the product, it helped me greatly and I would recommend it to anyone is looking to enhance their recovery."
- Sean S.
"Can't do much better than making the ache stop post-lift and helping to prevent soreness when using pre-lift."
- Patrick
"Have ordered several jars and recently gifted two jars and each person gave feedback, that it really works to relieve their pain. I don't need it every night, but when I need relief, I have counted on the cream and it relieved my pain, so I could easily fall asleep. Thanks Herbstrong."
- Aileen
"In love with this! This product works and is long lasting. I've been using this cream on my legs before soccer training mainly because of my knee pain and to make me less sore. 10/10 would recommend to anyone."
- Ernie
"Wow, I have osteoarthrits in my knees and I'm an ER Nurse. I have almost immediate relief when I applied. I use it 3 times a day when working. On days off I use it twice. It really provides great pain relief!
- Roberta